With the rise of durable consumer electronics and the growing mass of storage, security cameras are right in the middle of their boom. Overwhelmingly, businesses, both big and small, are outfitting their stores with cameras to watch the points of egress and the most valuable areas within the building. This is the age of the security camera.
However, we are still at the early end of this technological adoption. Many people require surveillance equipment, but some of them don't really understand the market, or what constitutes a valuable purchase. Luckily, we have the answers you seek. Read on below to learn about the best features for your outdoor security camera.
The Best Outdoor Security Camera Features
4K or High-Definition Recording
HD streaming is a must in keeping with the theme of the steady march towards the future. Currently, there are several options available for you to choose from when it comes to security cameras that have HD, or even 4K, functionality.
Typically, most of us have seen footage from a CCTV camera or an outdated security system. That level of quality simply does not compare, nor does it do justice to our current security level. Ensure that your business is adequately protected and that you can catch any ne' er-do wells by having up-to-date security footage.
Cloud Storage or Expandable Storage
One of the biggest changes in tech is the massive expansion of storage. This extra capacity is essential for large files, and with the increasingly high resolution of video footage, essential for business security as well. Therefore, when you are shopping for the best security cameras, look for a massive amount of storage.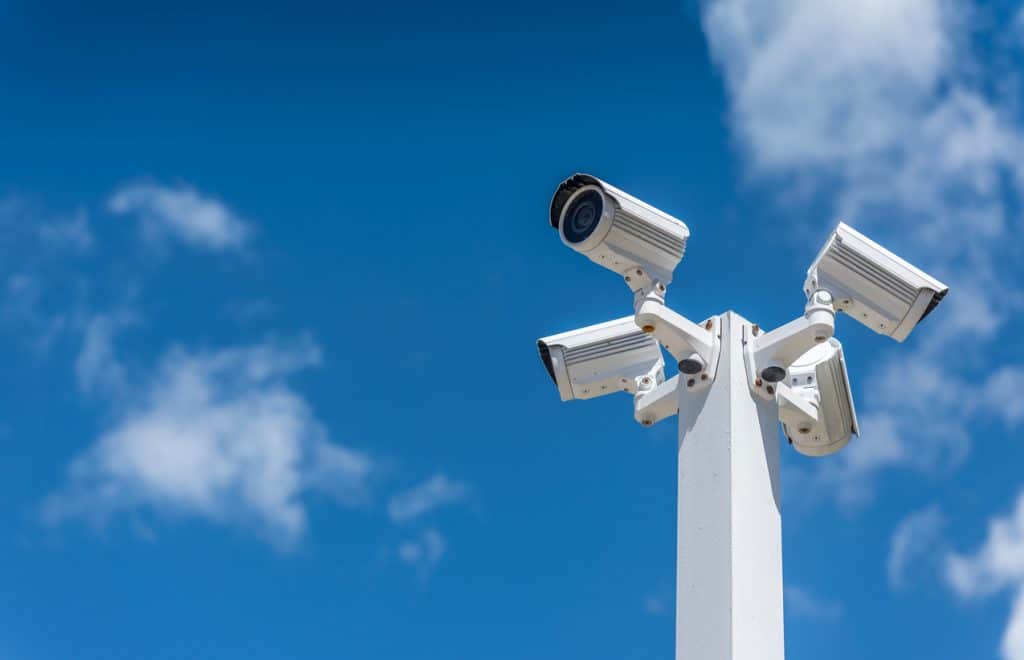 Additionally, you can circumvent this problem if the camera you choose has access to a cloud storage program. Plus, with cloud storage, you also have the opportunity to access your saved data and videos from anywhere with an internet connection. Beware, however, that cloud storage can occasionally come with a paid subscription service.
Truly Waterproof
Of course, waterproofing has to be on our list of best features. Especially when it concerns outdoor cameras. Unfortunately, there are very few ways to test the waterproof claims of a security camera without potentially damaging it in the process. However, online reviews are a strong ally in the process. Compare the aggregate reviews of other customers and see if they have success with the waterproof claims of your top contenders.
Strong Connectivity
When we are discussing connectivity, we are talking about your connection to the network. This issue won't matter if you are using a hardwired connection, but those systems are often cumbersome and frustrating to install. Instead, wireless connections are the best option. However, sometimes you can not get the breadth of features you expect without some sacrifice.
A good example of this is the Google Nest Camera, which has an impressive list of features. Indeed, it is a wireless connection, but you will still have to find a place to plug it in as it does not have internal power storage. Although that may be a deterrent to some, you will have to weigh the costs and benefits for yourself.
Lasting Battery Life
The battery of your security camera is essential. Naturally, the longer your battery life, the fewer disruptions you will experience. The best batteries will last several days or months without a replacement. But, to get even better results, consider looking into sporadic or intermittent recording cycles. For instance, cameras that only record in the presence of movement.
Find Your Security Camera System Today!
In conclusion, there are many types of security cameras. Several of the options will serve your business well, and provide your preferred level of security. However, to find the best recorders for your situation, rely on the knowledgeable expertise of professionals in the field.
Since 2006, Intercept Security Services has provided companies in Western Canada with the complete security solution. We have a range of security guard services that companies can use to secure their establishments' safety. All ISS security guards receive in-class training, specific site training, and can respond to all types of situations. We work to establish long and fruitful client relationships thanks to our beliefs in trust, integrity, straightforward communication, and meeting the needs of our clients. For the best security guard services in Calgary, Edmonton, and all of Alberta, call our general number on 1-(855)-543-8477 or email us at [email protected]