Many businesses rely on solutions like alarms and surveillance for their security measures. However, they don't consider whether or not they need actual security guards protecting their place of business. At first thought, it may seem like it would be going overboard to hire security guards. But for high-level companies, here are some reasons why it's essential to hire security guard services in Calgary.
1. It's a Good Deterrent Against Crime
Criminals often target their victims based on how vulnerable they are. By hiring a mobile security patrol in Calgary, you are showing that your property is actively being protected against crime. This makes your property less likely to be targeted by criminals that are looking to target businesses that are "low hanging fruits".
2. Loss of Data Can Be Catastrophic
Computers, laptops, and servers will be storing priceless data for your business. Even if you have security measures in place, it will likely get stolen without a mobile security patrol on site. Thieves will try to grab whatever they can and run off if an alarm is triggered. And even if law enforcement does catch the thieves, your equipment may end up getting damaged along with your data.
3. Provide Proper Security for Employees
For many businesses, their employees are one of their top assets. You want to make sure that you have security guard services in Calgary to keep your employees safe. Employees do not want to feel like they are at risk of becoming a victim of a crime while on your property. Having security guards prevents intruders from coming in. It gives your employees peace of mind and lets them focus on what they do best.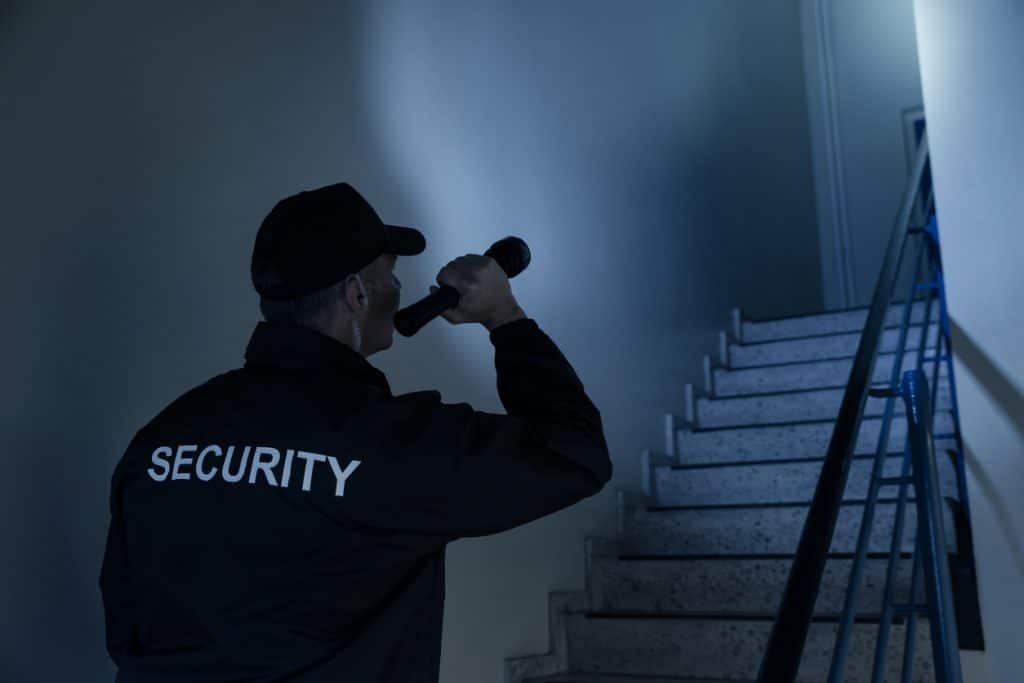 4. You Are Prepared for Different Scenarios
It's not always intruders that will lead to problems. Many different incidences can occur in your business property. This includes physical altercations between staff members, problems with visitors, and more. It's important to be prepared for different scenarios that may require security guards to maintain order and enforce the rules.
5. They Help Customers and Clients Feel Safe
In many instances, it's the customers and clients that need to feel safe in your place of business. There are many different types of companies that need security guards to offer protection. The list includes shopping centers, banks, hospitals, and schools. It is especially important to have security guards if the business receives a lot of foot traffic. There's no way for the business to control who comes in, so the business will need a security guard on staff to protect everyone on the premises.
6. Security Guards Can Offer Other Services
It's not just about preventing violent crime. Security guards add value in many other ways. Here's a quick list of some of the things they can help with:
– Take the responsibility of opening and closing your place of business.
– Ensure that your inventory isn't being stolen by employees or outside visitors.
– Monitor the security of your business when the business is closed.
– Identify security issues and suspicious activities that can lead to crime.
– Be the gatekeeper for who gets to come into your place of business.
– Check and monitor for weapons being brought into your business.
– Set your security system after everyone leaves the premises.
– Protect employees that are staying after hours for work purposes.
– Establish a security protocol to offer a high level of safety and security.
These are just a few of the many reasons why security guard services in Calgary are essential. High-level businesses have a lot to lose by not hiring security guards. It's not enough to rely on surveillance, alarms, and law enforcement. There are other threats and risks that you have to deal with as a high-level business. Hopefully, this list has helped you better understand the importance of hiring security guards for your business.
Since 2006, Intercept Security Services has provided companies in Western Canada with the complete security solution. We have a range of security guard services that companies can use to secure the safety of their establishments. All ISS security guards receive in-class training, specific site training that better prepares them, and are trained to respond to all types of situations. We work to establish long and fruitful client relationships thanks to our beliefs in trust, integrity, straight-forward communication and meeting the needs of our clients. For the best security guard services in Calgary, Edmonton and the whole of Alberta, call our general number on 1-(855)-543-8477 or email us at [email protected].